When it comes to high efficiency and even higher BTU capacities, RBI's Futera Fusion XLF is in a class of its own. By combining the best features of the Futera Fusion and Futera XLF systems, the engineers at RBI have created a new commercial boiler system that increases output levels while maintaining ultra-high efficiencies – the likes of which have never been seen within the commercial boiler market.
As a fully condensing, gas-fired boiler, the Fusion XLF features an innovative design that brings superior power and energy efficiency with premium boiler performance and serviceability, all together in an unprecedented, industry-leading, small package design.
Ideal for commercial boiler applications with low operating, return or make-up water temperatures, the Fusion XLF is capable of reaching efficiencies as high as 99% at full input. With full modulation up to 5:1, the firing system continuously varies the energy input to match the heating load without overfiring and wasting fuel – providing extremely high part-load efficiencies.
The Fusion XLF also features HeatNet 3.0, an intuitive boiler control system that monitors system characteristics and modulates boiler firing rates, maximizing turndown ratios and maintaining peak efficiency, regardless of the load.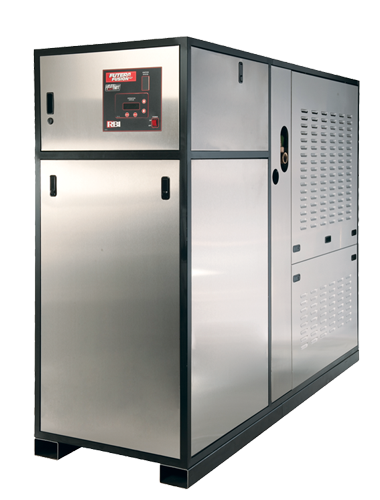 2,500-4,000 MBH
5:1 Modulation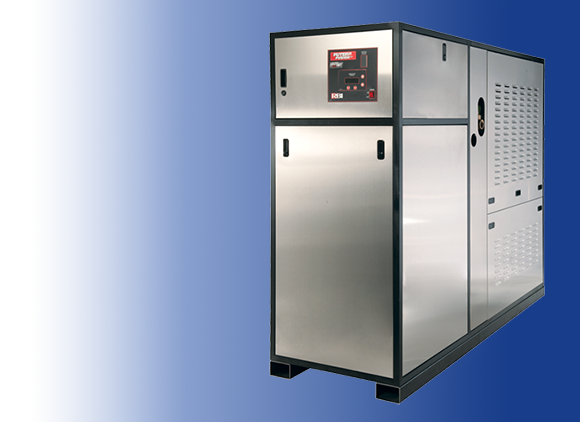 2500 – 4000 MBH
AHRI Certified Efficiency 95.8%
Stainless Steel / Copper Hybrid Heat Exchanger
Full Modulation with Continuous, 5:1 Turndown
Sealed Combustion/Direct Vent
Symmetrically Air/Fuel Coupled
Commercial Combustion Controls
HeatNet 3.0 Integrated Boiler Control Platform
Gasketless Heat Exchanger Assembly
futera fusion XLF Dimensions and ratings
| | Input | | Boiler | Output | Unit | Depth | Unit | Width | Unit | Height | Cat IV Positive | Cat II | Air Intake | | Connections | | Shipping | Weight |
| --- | --- | --- | --- | --- | --- | --- | --- | --- | --- | --- | --- | --- | --- | --- | --- | --- | --- | --- |
| Size | MBH | kW | MBH | kW | In. | mm | In. | mm | In. | mm | UL Listed Stainless Steel** | Negative** | | Natural Gas | LP | Water | Lbs | Kg |
| CB/CW 2500 | 2500 | 733 | 2350 | 689 | 84 | 2134 | 29-1/8 | 740 | 55-1/2 | 1410 | 8" | 8" | 12" | 8" | 1-1/2" | 3" | 2330 | 1057 |
| CB/CW 3000 | 3000 | 879 | 2820 | 826 | 84 | 2134 | 29-1/8 | 740 | 60 | 1524 | 8" | 8" | 12" | 8" | 1-1/2" | 3" | 2384 | 1081 |
| CB/CW 3500 | 3500 | 1026 | 3290 | 964 | 84 | 2134 | 29-1/8 | 740 | 64-1/2 | 1638 | 10" | 10" | 14" | 10" | 1-1/2" | 3" | 2615 | 1186 |
| CB/CW 4000 | 4000 | 1172 | 3760 | 1102 | 84 | 2134 | 29-1/8 | 740 | 69 | 1753 | 10" | 10" | 14" | 10" | 1-1/2" | 3" | 2726 | 1236 |
| | Input | | Boiler | Output | Unit | Depth | Unit | Width | Unit | Height |
| --- | --- | --- | --- | --- | --- | --- | --- | --- | --- | --- |
| Size | MBH | kW | MBH | kW | In. | mm | In. | mm | In. | mm |
| CB/CW 2500 | 2500 | 733 | 2350 | 689 | 84 | 2134 | 29-1/8 | 740 | 55-1/2 | 1410 |
| CB/CW 3000 | 3000 | 879 | 2820 | 826 | 84 | 2134 | 29-1/8 | 740 | 60 | 1524 |
| CB/CW 3500 | 3500 | 1026 | 3290 | 964 | 84 | 2134 | 29-1/8 | 740 | 64-1/2 | 1638 |
| CB/CW 4000 | 4000 | 1172 | 3760 | 1102 | 84 | 2134 | 29-1/8 | 740 | 69 | 1753 |
| | Cat IV Positive | Cat II | Air Intake | | Connections | | Shipping | Weight |
| --- | --- | --- | --- | --- | --- | --- | --- | --- |
| Size | UL Listed Stainless Steel** | Negative** | | Natural Gas | LP | Water | Lbs | Kg |
| CB/CW 2500 | 8" | 8" | 12" | 8" | 1-1/2" | 3" | 2330 | 1057 |
| CB/CW 3000 | 8" | 8" | 12" | 8" | 1-1/2" | 3" | 2384 | 1081 |
| CB/CW 3500 | 10" | 10" | 14" | 10" | 1-1/2" | 3" | 2615 | 1186 |
| CB/CW 4000 | 10" | 10" | 14" | 10" | 1-1/2" | 3" | 2726 | 1236 |
**Diameters may vary based on system design