Encore
| | |
| --- | --- |
| Heat Exchanger | Firetube Stainless Steel Condensing |
| Size Range | 350 - 850 MBH |
| AHRI Boiler Efficiency | 98.2%* |
| Turndown | Full Modulation (up to 10:1*) |
| Applications | Variable Volume, Full Flow, Primary / Secondary |
Encore firetube boilers are the perfect solution for today's smaller commercial applications. Ultra high efficiency (+98%), a compact footprint and flexible venting options make Encore one of the most versatile firetube boilers on the market.
Incorporating all industry-proven components including HEATNET 3.0 touchscreen cascade control, Tru-Flow fuel/air coupling system with 10:1* turndown and capacities from 350 - 850 MBH Encore has the right equipment for all of today's energy conscious installations.
Encore uses a pressure driven mixing system with no moving parts for the industry's most reliable 10:1* turndown, without lowering the CO2%, all while avoiding nuisance ignition lockouts.
*Efficiencies and turndown vary by size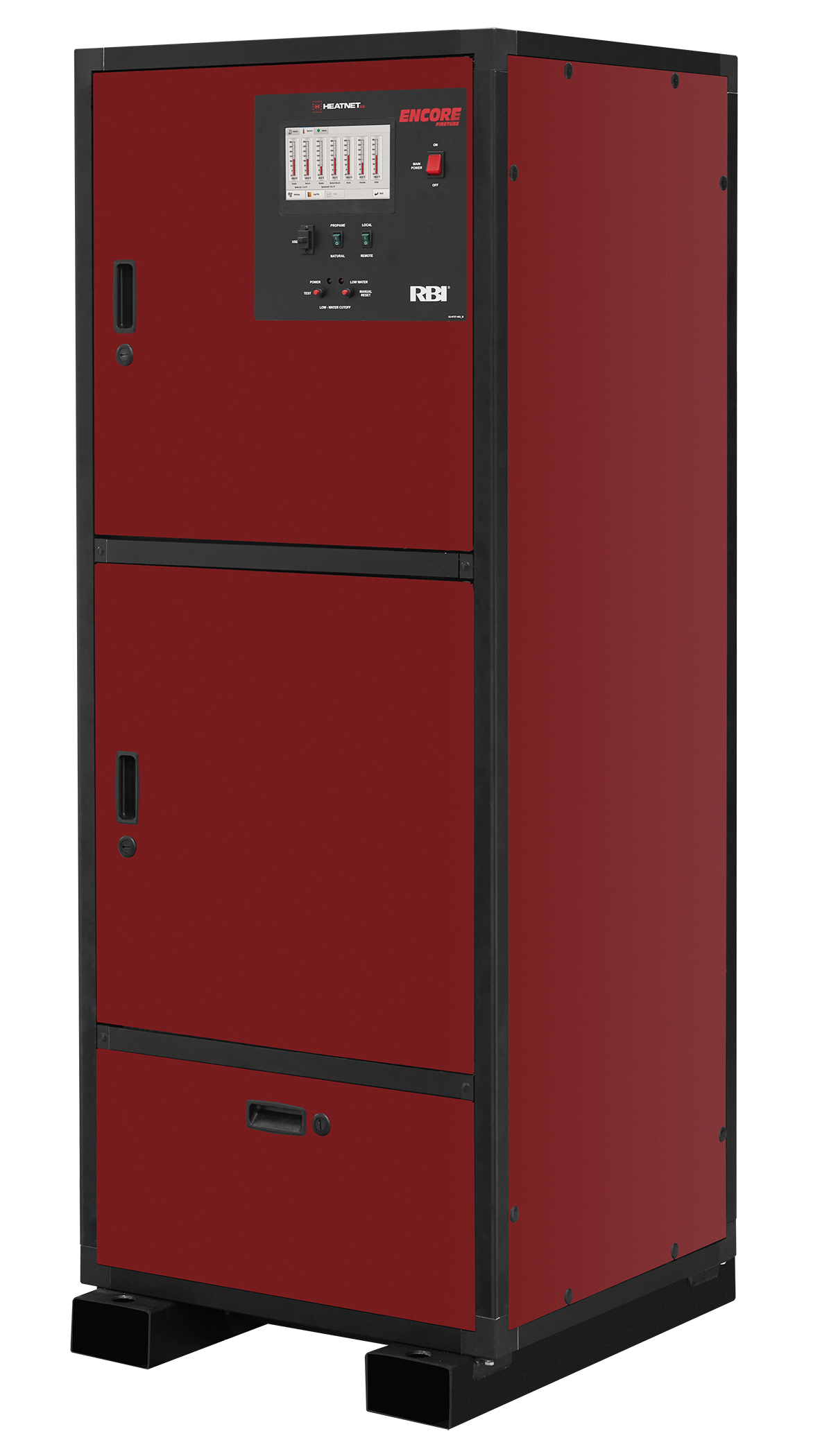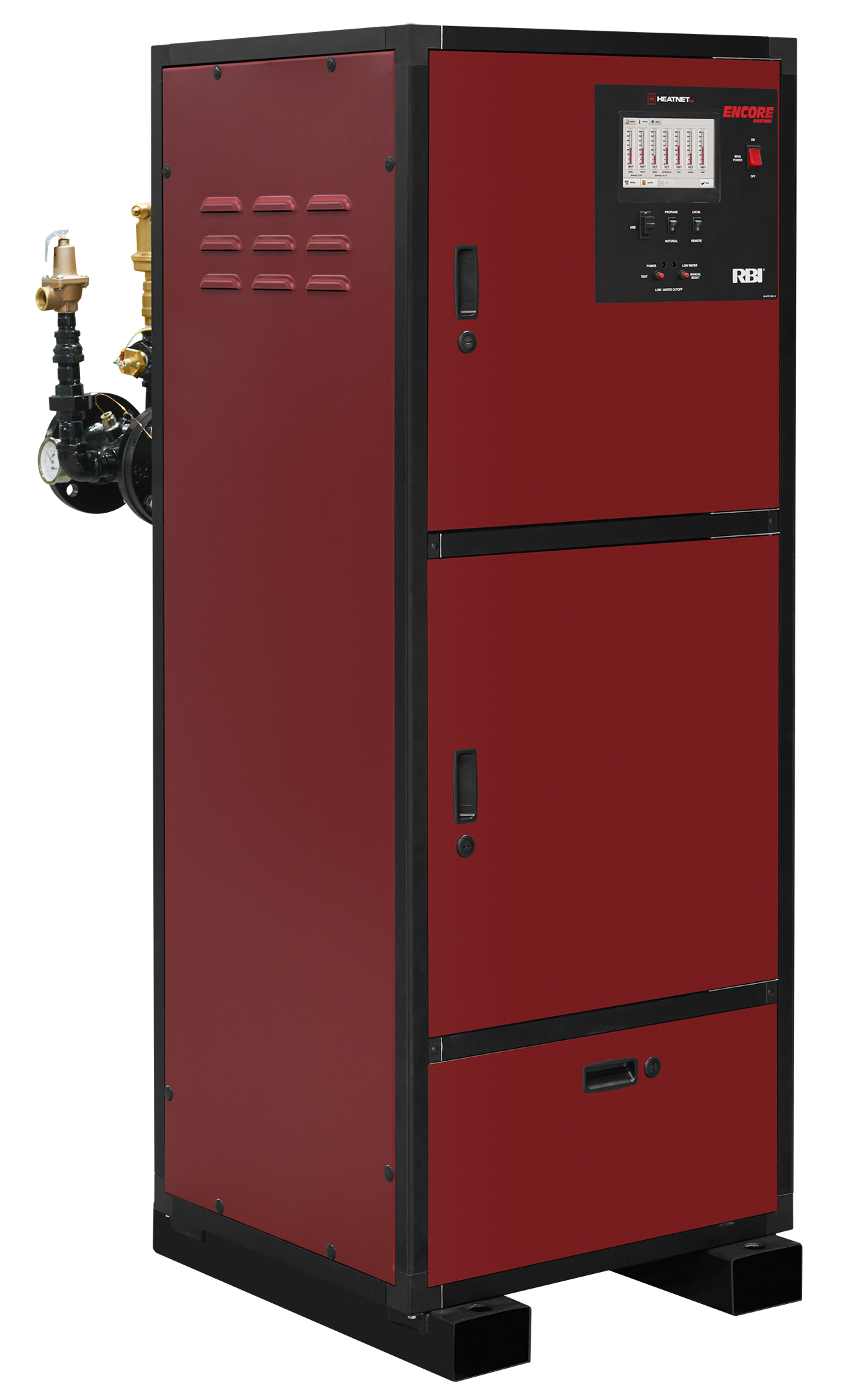 350 - 850 MBH
+98% AHRI Certified Efficiency*
Full Modulation (Up to 10:1*)
Stainless Steel Heat Exchanger
Variable Volume, Full Flow and Primary/Secondary
Sika Vortex Flow Sensor
HEATNET 3.0 Integrated Control Platform
Remote Monitoring Capable
Touchscreen Programming and Diagnostics
Modbus, LonWorks and BACnet BMS Integration
Category II and IV (up to 100'Direct and Sidewall)
Concentric Vent Kits (sidewall and vertical 400 - 600 MBH)
PVC/CPVC, Polypropylene and Stainless Steel Vent Approved
NG/LP/Dual Fuel
Easy Maintenance and Installation
Outdoor Installation
Low Nox
Energy Star Certified
*Efficiencies and turndown vary by size
Have Questions?
Contact a Sales Representative
Heat Exchanger Performance
Encore firetube heat exchangers are designed for optimum perfomance and durability. Made from an industrial quality stainless steel Encore heat exchangers are reliable and robust with superior corrosion resistance
Encore's heat exchanger is manufactured using a unique geometry of firetube design for maximum heat transfer by creating a "turbulent" flow of flue gases allowing Encore to "scrub" every last bit of energy efficiency across its large surface area for peak performance. Its anti-scaling baffling system is essentially self-cleaning, further ensuring product durability and corrosion resistance over the long haul.
Full Modulation
10:1* modulation works in perfect concert with our proven Tru-Flow neg-reg air/fuel combustion control system, insuring not only maximum performance efficiencies, but also clean, safe and reliable combustion always.
*Efficiencies and turndown vary by size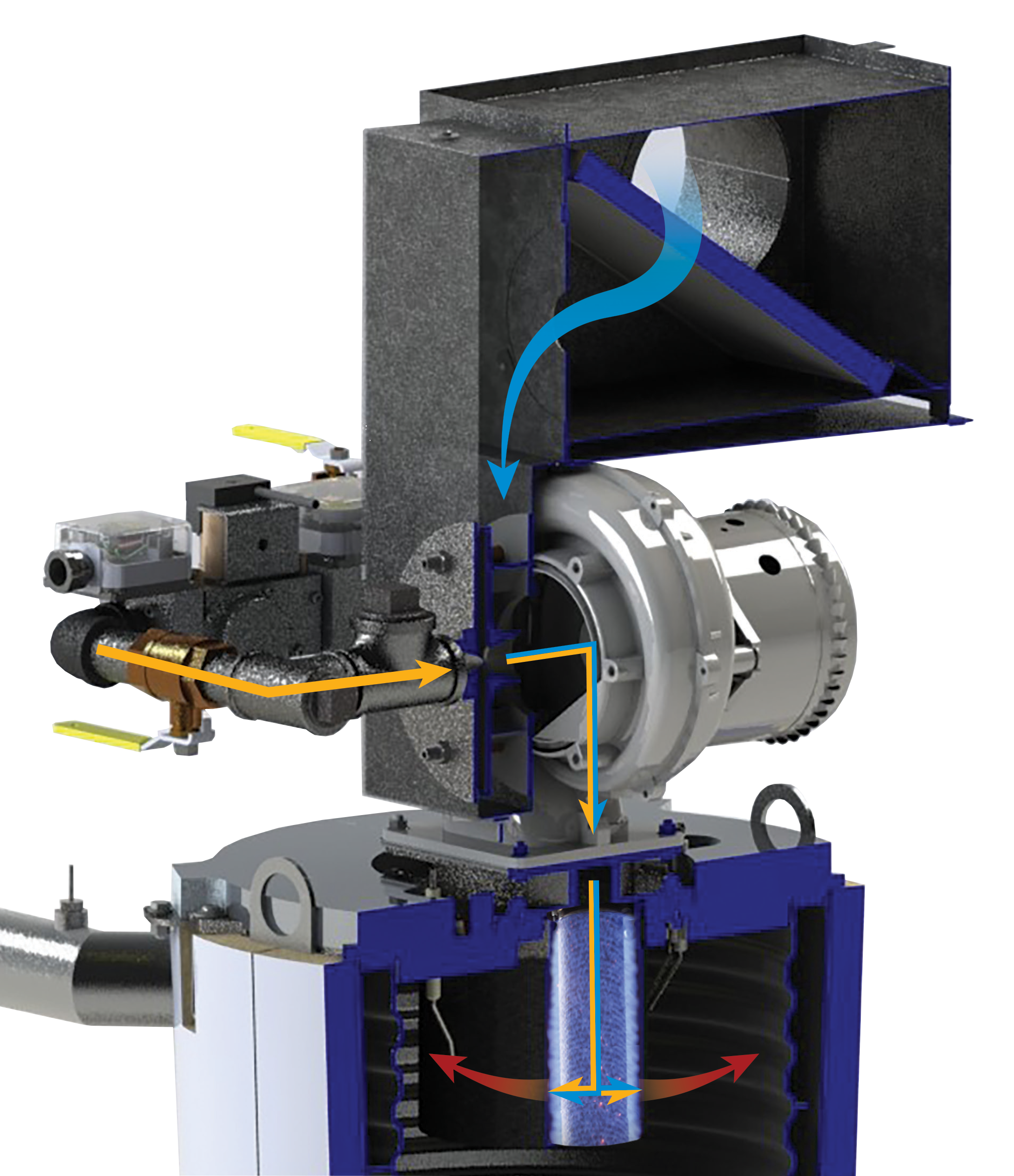 Tru-Flow Air/Fuel
Tru-Flow is instantly responsive and completely adaptable. The system reacts to changes in air and instantly compensates fuel supply by adjusting input to maintain a constant air/fuel mixture across the modulation range, while increasing combustion efficiency and maintaining low emissions.
Encore boilers are capable of reliable full-fire performance at just 4" of gas pressure.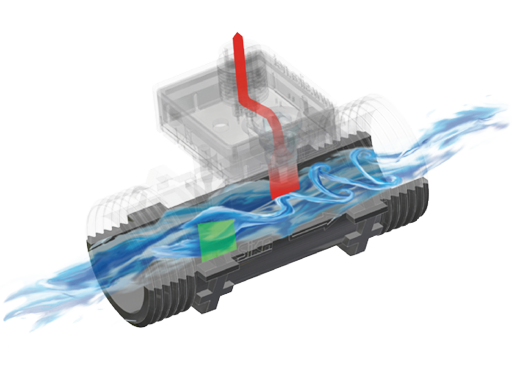 SIKA Vortex Flow ®
All Encore Series boilers include a SIKA vortex flow sensor mounted in a by-pass configuration and mapped to indicate the boiler flow in (gpm).
SIKA flow sensors utilize vortex technology which is then converted to an electrical signal sent directly to the HEATNET Boiler Management System for real time flow annunciation.
Flow sensors are fully adjustable throughout the boiler model operating range.
Digital Touch Screen Programming
Lead/Lag Cascade (16 Units)
Mixed-Size Unit Communication
Circular Pump/VFD/Valve Control
Freeze Protection & Delta T Monitoring
Hybrid/base Load Capability
Domestic Hot Water Communication
Web-Based Remote Monitoring/Dashboard
Diagnostics and Troubleshooting
Exclusive Remote Monitoring Capability with HEATNET Online