Flexcore
| | |
| --- | --- |
| Heat Exchanger | Stainless Steel Firetube Heat Exchanger |
| Size Range | 850 - 6,000 MBH |
| AHRI Boiler Efficiency | 96.8%* |
| Turndown | Up to 10:1* |
| Application | Variable Volume, Full Flow, Primary / Secondary |
FlexCore Symmetrical Firetube boilers bring hydronic heating products to unprecedented levels of operating efficiency.
Unlike other manufacturers; from start to finish the FlexCore was designed, developed and engineered by the experts at RBI.
Engineered for performance and longevity the FlexCore utilizes a perfectly temperature balanced heat exchanger that provides not only the highest efficiencies but also a durability beyond that of any competitive firetube boiler on the market.
*Efficiencies and turndown vary by size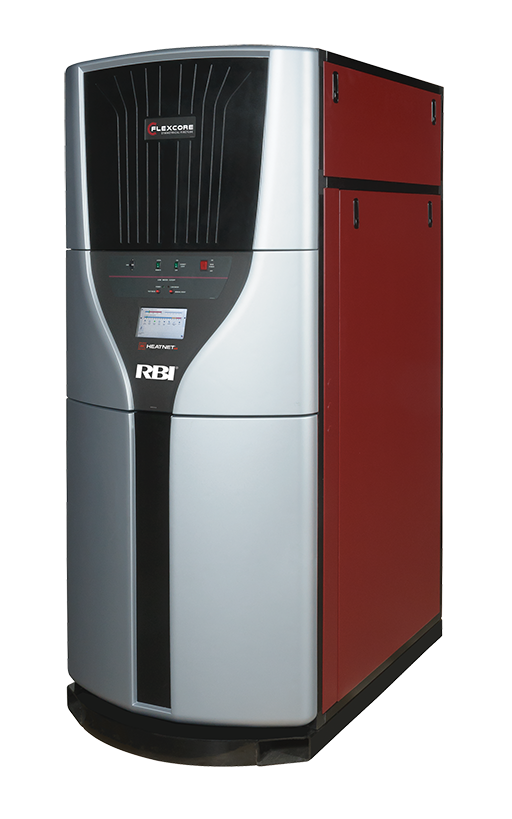 850 - 6,000 MBH
96.8% AHRI Certified Efficiency*
Full Modulation (up to 10:1*)
O2 Monitoring
304L Stainless Steel Firetube Heat Exchanger
Variable Volume, Full Flow and Primary/Secondary
Patented "Turbo Pilot" Sure-fire Ignition
Sika Vortex Flow Sensor
HEATNET 3.0 Integrated Control Platform
Touchscreen Programming & Diagnostics
Modbus, LonWorks and BACnet BMS Integration
Symmetrically Air/Fuel Coupled
Category II and IV (up to 160')
PVC/CPVC, Polypropylene and Stainless Steel Vent Approved
Warranty (Heat Exchanger): 10-years
Superior Durability
Easy Installation & Maintenance
Fits through 36" Door
Low Nox
*Efficiencies and turndown vary by size
Have Questions?
Contact a Sales Representative
Symmetrical Firetube
All "firetube" boilers are designed to do the same thing: Heat water in an efficient manner.That is where the comparison ends!
The RBI difference...
FlexCore Symmetrical Firetube boilers are designed for the long haul with no tradeoffs in efficiencies. In order to operate at premium condensing efficiencies many factors come into play that can affect the design, performance and, as importantly, the durability.
FlexCore is engineered to provide perfect temperature symmetry around an ultra-high efficient core. Flue gas temperatures are even and a consistent temperature rise across all the tubes results in a unrivaled<5° temperature difference across the heat exchanger with NO intra-tubular stresses as seen in many of today's competitive designs.
RBI "flexes" its strength by design. At its core is a piston-like heat exchanger engineered to eliminate the expansion and contraction stresses seen in today's boilers by creating a temperature balanced symmetrical upper tube sheet reminiscent of a diaphragm that absorbs the stresses from this piston-like motion at any water temperature delta.
Condensate is removed through FlexCore's linear design resulting in ultra-high efficiencies in a compact design with minimal corrosive effects.
FlexCore scrubs every last bit of heat from the combustion gases keeping stresses low and efficiencies high at all modulation rates, making FlexCore the most efficient boiler on the market today.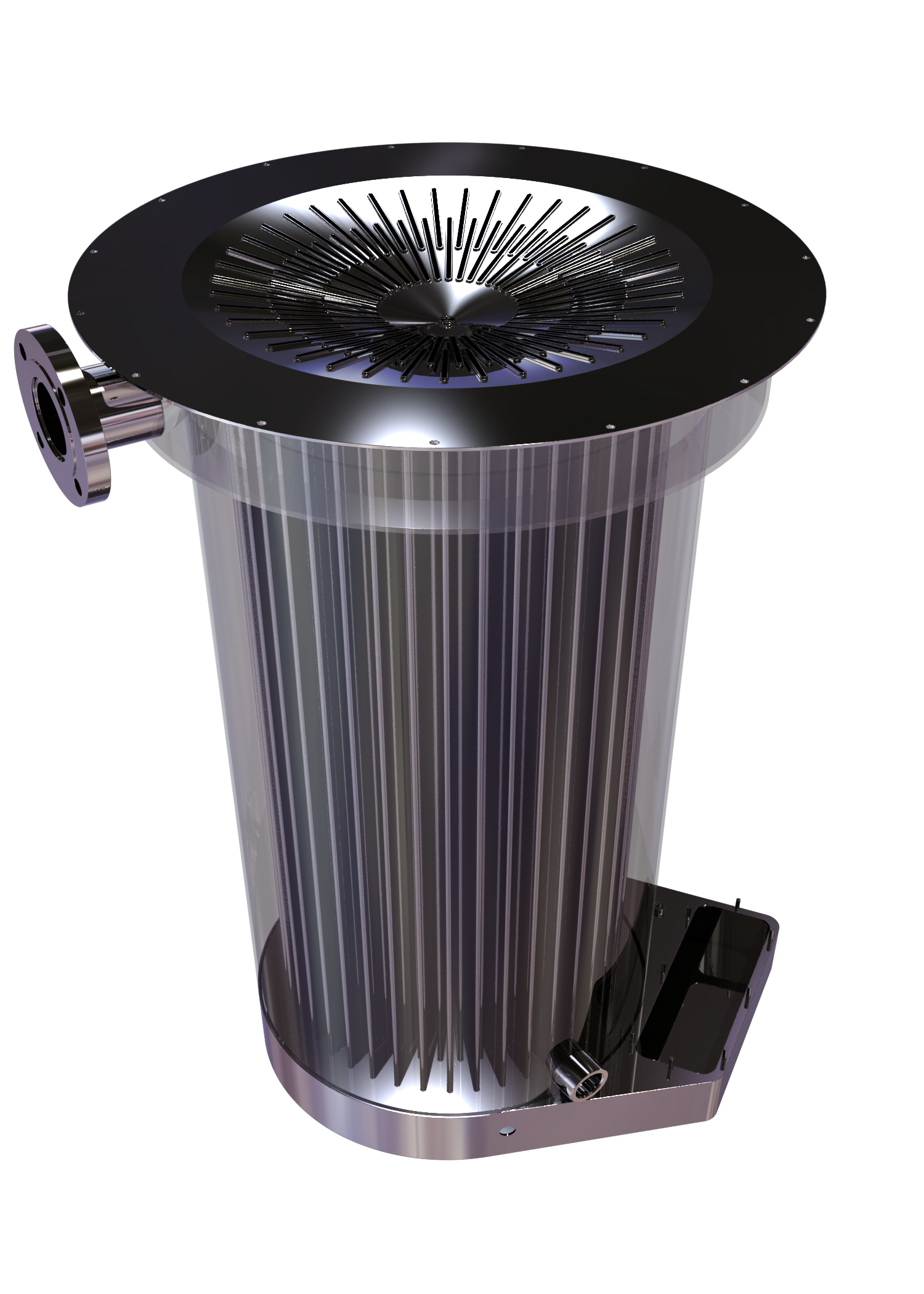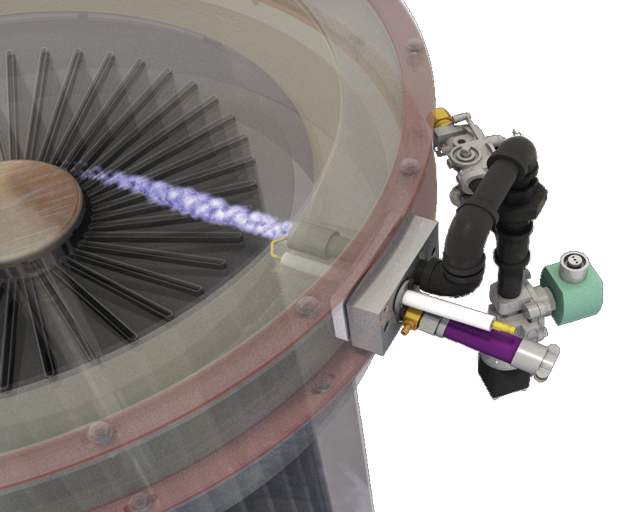 The Turbo Pilot®
Another investment in the reliable performance that's built into the FlexCore is its patented Turbo Pilot system. RBI's Turbo Pilot is a industry proven ignition system with 1000's of units installed globally.
A robust 8,000 BTU/h ignition system, Turbo Pilot is far more reliable and durable than any hot surface ignition and direct spark system. The Turbo Pilot gives burner ignition a surefire, powerful ignition source even in applications with fluctuating gas pressures.
UV detection keeps system diagnostics informed about performance; a technician can also use the observation port to confirm spark/flame without removing the pilot or burner assembly.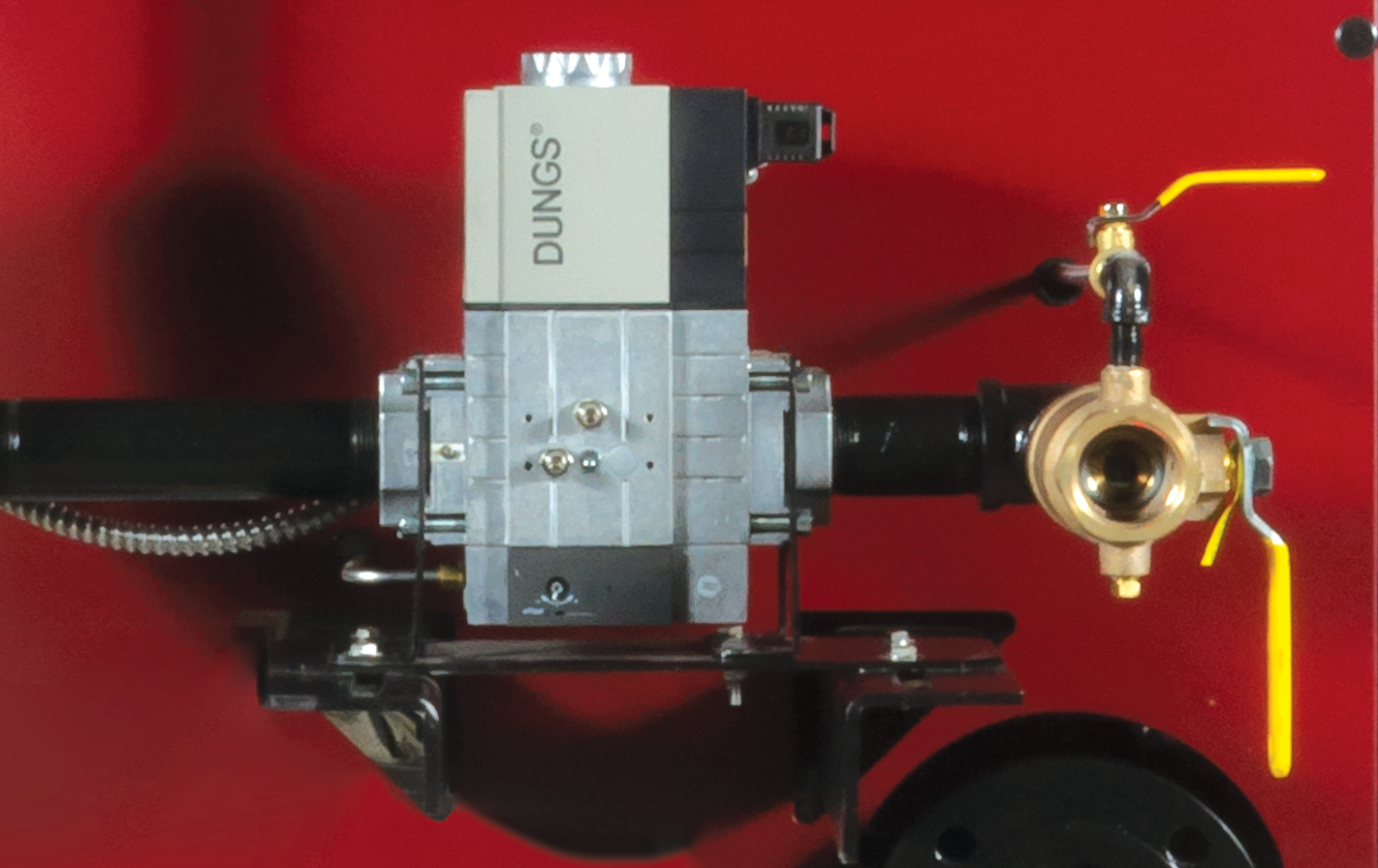 Symmetric Air/Fuel Coupling
RBI's state-of-the-art air/fuel coupling combustion control system is instantly responsive and completely adaptable. This unique boiler combustion control system is designed to keep the FlexCore running safe, clean and efficient. The system reacts to changes in air and instantly compensates fuel supply by adjusting input to maintain a constant air/fuel mixture across the modulation range. The unique design of the air/fuel mixing system ensures a complete and consistent air/ fuel mixture to the burner which increase combustion efficiency and repeatability all while maintaining low emissions.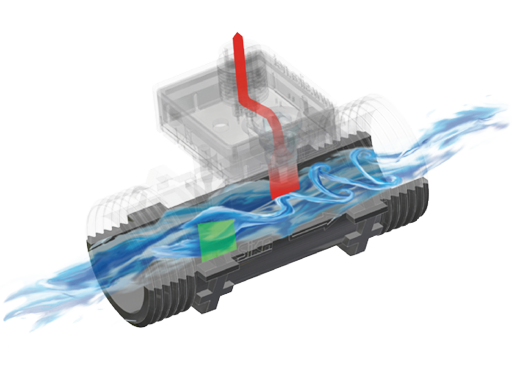 SIKA FLOW SENSOR®
All FlexCore Firetube Series boilers include a SIKA vortex flow sensor mounted in a by-pass configuration and mapped to indicate the boiler flow in (gpm). The SIKA flow sensor utilizes vortex technology which is then converted to an electrical signal sent directly to the HEATNET Boiler Management System for real time flow annunciation. The SIKA flow sensor is fully adjustable throughout the boiler model operating range.
Digital Touch Screen Programming
Lead/Lag Cascade (16 Units)
Mixed-Size Unit Communication
Circular Pump/VFD/Valve Control
Freeze Protection & Delta T Monitoring
Hybrid/base Load Capability
Domestic Hot Water Communication
Web-Based Remote Monitoring/Dashboard
Diagnostics and Troubleshooting
Exclusive Remote Monitoring Capability with HEATNET Online
FlexCore units operate safely and efficiently at all times by reacting to changes in the air or fuel flow which can compromise combustion. Air/Fuel coupling automatically adjusts to any changes in the environment by reducing input levels to maintain optimum combustion quality while providing the highest degree of safety. Air/Fuel coupling further increases application flexibility by allowing installation of FlexCore units in areas of variable air inlet and gas pressures without compromising safety or performance. Space-saving Footprint Advanced gas train design monitors and regulates gas input based on combustion air pressure, which in turn provides highly repeatable air/fuel ratio throughout the operating range.