Futera II
AVAILABLE IN US ONLY
| | |
| --- | --- |
| Heat Exchanger | Copper |
| Size Range | 500 - 1,950 MBH |
| AHRI Boiler Efficiency | 85% |
| Turndown | On/Off , 2-Stage |
| Application | Primary/Secondary |
Futera II Series hot water supply boilers provide dependable boiler performance with 85% efficiency levels, alongside industry-leading NOx levels of less than 10 ppm. With sizing that ranges from 500 to 1,950 MBH, the Futera II provides a high concentration of BTUs in a small footprint, making it an excellent choice for jobs where mechanical space is limited, as well as other modular, step-fired boiler applications.
The Futera II's compact, low maintenance boiler and venting flexibility permit easy boiler installation and service, making it the ideal non-condensing, gas-fired boiler and hot water heater for any hot water supply application. Futera II units have the ability to use room air for combustion and are also capable of drawing in air from the outside for sealed combustion. Units can be set up to vent vertically as Category I appliances or horizontally as Category III through a sidewall, making the Futera II ideal for buildings without chimneys, where roof penetrations cannot exist or on electric-to-gas conversions.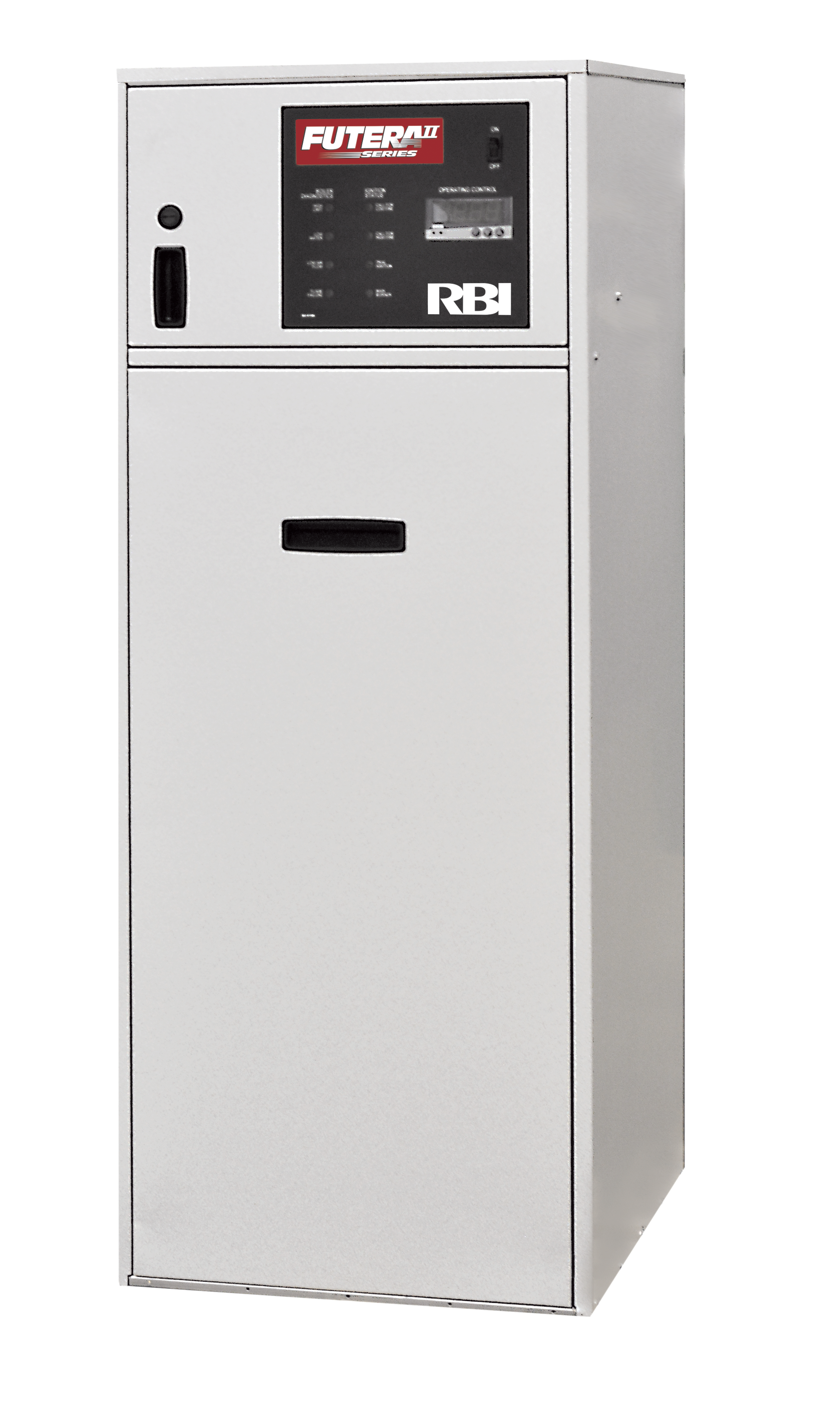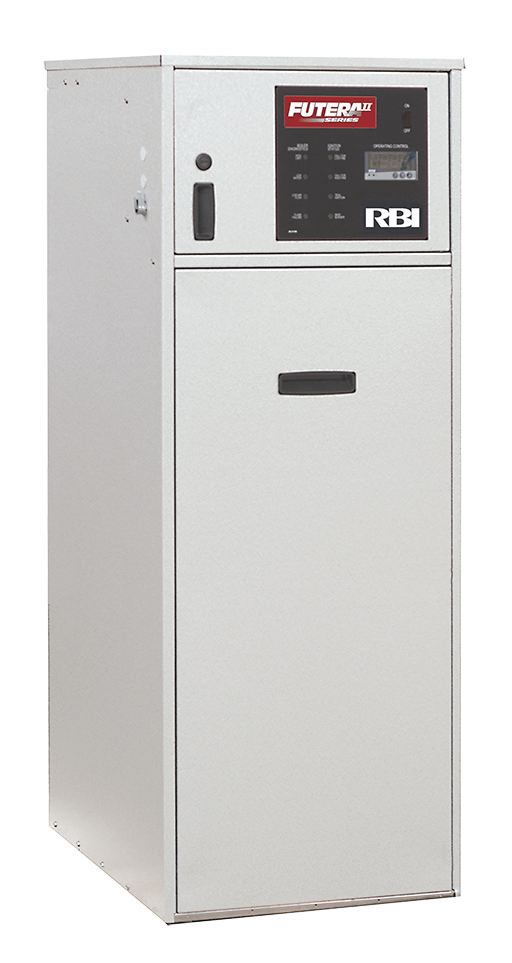 500 - 1,950 MBH
On/Off, 2-stage Firing
Copper 4-Pass Heat Exchanger (160 psi)
2-stage Digital Operator
Reliable Alloy Burner
Patented Turbo Pilot Sure-fire Ignition
Gasketless Heat Exchanger
Stainless Steel Combustion Chamber
Honeywell RM7800 Flame Safeguard
Cast Iron Headers (Boilers)
Bronze Headers (Water Heaters)
Mounted & Wired Flow Switch
High Limit Control w/ Manual Reset
Low Nox
Space Saving Footprint
Have Questions?
Contact a Sales Representative
futera II ratings and Dimensions*
| | Input | | Boiler | Output | Unit | Depth | Unit | Width | Unit | Height | Vent | Standard | Vent | Wall | Air | Intake | | Connections | | Shipping | Weight |
| --- | --- | --- | --- | --- | --- | --- | --- | --- | --- | --- | --- | --- | --- | --- | --- | --- | --- | --- | --- | --- | --- |
| Module | MBH | kW | MBH | kW | In. | mm | In. | mm | In. | mm | In. | mm | In. | mm | In. | mm | Nat. | LP | Water In. | Lbs | Kg |
| FB/FW 500 | 500 | 147 | 425 | 125 | 22-5/16" | 567 | 21-9/32 | 540 | 43-1/32" | 1093 | 8" | 203 | 6" | 152 | 10" | 254 | 1" | 1" | 2" | 535 | 243 |
| FB/FW 750 | 750 | 220 | 638 | 187 | 22-5/16" | 567 | 21-9/32" | 540 | 49-17/32" | 1258 | 10" | 254 | 8" | 203 | 10" | 254 | 1" | 1" | 2" | 578 | 262 |
| FB/FW 1000 | 1000 | 293 | 850 | 249 | 22-5/16" | 567 | 21-9/32 | 540 | 56-1/32" | 1423 | 10" | 254 | 9" | 229 | 10" | 254 | 1-1/4" | 1-1/4" | 2" | 690 | 313 |
| FB/FW 1250 | 1250 | 366 | 1063 | 311 | 27-9/32" | 693 | 25-3/16" | 640 | 50-11/16" | 1287 | 12" | 305 | 10" | 254 | 12" | 305 | 850 | 1-1/4" | 2-1/2" | 775 | 352 |
| FB/FW 1500 | 1500 | 440 | 1275 | 374 | 27-9/32" | 693 | 25-3/16 | 640 | 55-3/16" | 1402 | 12" | 305 | 10" | 254 | 12" | 305 | 1-1/4" | 1-1/4" | 2-1/2" | 835 | 379 |
| FB/FW 1750 | 1750 | 513 | 1488 | 436 | 27-9/32" | 693 | 25-3/16" | 640 | 59-11/16" | 1516 | 14" | 356 | 12" | 305 | 14" | 356 | 1-1/2" | 1-1/2" | 2-1/2" | 900 | 408 |
| FB/FW 1950 | 1950 | 571 | 1658 | 486 | 27-9/32 | 693 | 25-3/16 | 640 | 64-3/16 | 1631 | 14" | 356 | 12" | 305 | 14" | 356 | 1-1/2" | 1-1/2" | 2-1/2" | 960 | 435 |
| | Input | | Boiler | Output | Unit | Depth | Unit | Width | Unit | Height |
| --- | --- | --- | --- | --- | --- | --- | --- | --- | --- | --- |
| Module | MBH | kW | MBH | kW | In. | mm | In. | mm | In. | mm |
| FB/FW 500 | 500 | 147 | 425 | 125 | 22-5/16" | 567 | 21-9/32 | 540 | 43-1/32" | 1093 |
| FB/FW 750 | 750 | 220 | 638 | 187 | 22-5/16" | 567 | 21-9/32" | 540 | 49-17/32" | 1258 |
| FB/FW 1000 | 1000 | 293 | 850 | 249 | 22-5/16" | 567 | 21-9/32 | 540 | 56-1/32" | 1423 |
| FB/FW 1250 | 1250 | 366 | 1063 | 311 | 27-9/32" | 693 | 25-3/16" | 640 | 50-11/16" | 1287 |
| FB/FW 1500 | 1500 | 440 | 1275 | 374 | 27-9/32" | 693 | 25-3/16 | 640 | 55-3/16" | 1402 |
| FB/FW 1750 | 1750 | 513 | 1488 | 436 | 27-9/32" | 693 | 25-3/16" | 640 | 59-11/16" | 1516 |
| FB/FW 1950 | 1950 | 571 | 1658 | 486 | 27-9/32 | 693 | 25-3/16 | 640 | 64-3/16 | 1631 |
| | Vent | Standard | Vent | Wall | Air | Intake | | Connections | | Shipping | Weight |
| --- | --- | --- | --- | --- | --- | --- | --- | --- | --- | --- | --- |
| Module | In. | mm | In. | mm | In. | mm | Nat. | LP | Water In. | Lbs | Kg |
| FB/FW 500 | 8" | 203 | 6" | 152 | 10" | 254 | 1" | 1" | 2" | 535 | 243 |
| FB/FW 750 | 10" | 254 | 8" | 203 | 10" | 254 | 1" | 1" | 2" | 578 | 262 |
| FB/FW 1000 | 10" | 254 | 9" | 229 | 10" | 254 | 1-1/4" | 1-1/4" | 2" | 690 | 313 |
| FB/FW 1250 | 12" | 305 | 10" | 254 | 12" | 305 | 850 | 1-1/4" | 2-1/2" | 775 | 352 |
| FB/FW 1500 | 12" | 305 | 10" | 254 | 12" | 305 | 1-1/4" | 1-1/4" | 2-1/2" | 835 | 379 |
| FB/FW 1750 | 14" | 356 | 12" | 305 | 14" | 356 | 1-1/2" | 1-1/2" | 2-1/2" | 900 | 408 |
| FB/FW 1950 | 14" | 356 | 12" | 305 | 14" | 356 | 1-1/2" | 1-1/2" | 2-1/2" | 960 | 435 |
Note: Certified South Coast Air Quality Management (SCAQMD) Protocol Rule 1146.2; Ventura County APCD 74.11.1 * Rating reflect boilers only. For boiler efficiency information please visit www.ahridirectory.org