Futera 3
| | |
| --- | --- |
| Heat Exchanger | Copper |
| Size Range | 500 - 1,999 MBH |
| AHRI Boiler Efficiency | 85.6% |
| Turndown | 4:1 |
| Application | Primary/Secondary |
As part of the Futera line – RBI's flagship series of boilers and hot water heaters that offer the most versatile, durable and energy efficient units across both near and full condensing offerings – the gas-fired Futera III features full modulation with 4:1 turndown while supplying the precise amount of heat necessary to maintain desired building temperature by matching heating demand without overfiring or wasting energy.
These dependable, easy-to-service boilers feature rugged construction and sleek, stainless steel jacket design. With models ranging from 500-1999 MBH, all Futera III units come equipped with HeatNet 3.0 boiler control software, ensuring the highest operating efficiencies of any domestic boiler and hydronic heating system on the market.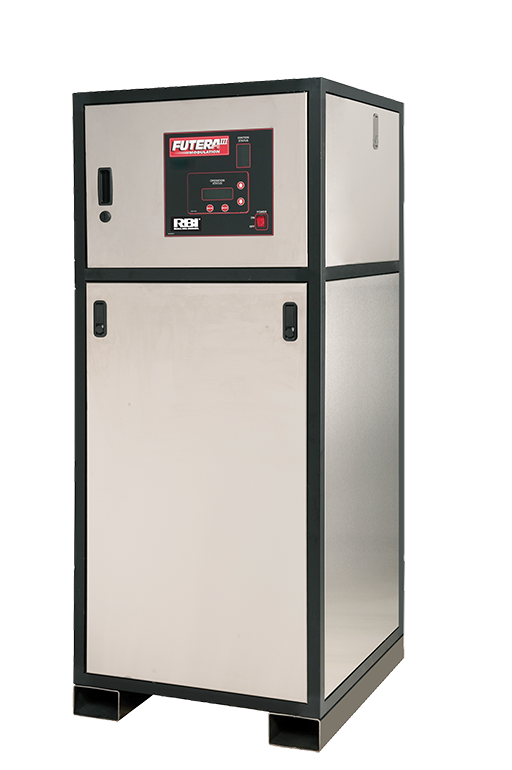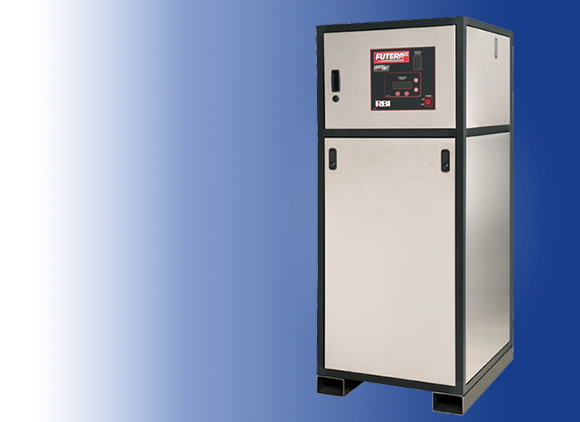 500 - 1,999 MBH
Full Modulation (4:1)
Copper 4-Pass Heat Exchanger (160 psi)
HEATNET Integrated Control Platform
Symmetrically Air/Fuel Coupled
Patented Turbo Pilot Sure-fire Ignition
Modbus, LonWorks and BACnet BMS Integration
Category II and IV Venting
Honeywell RM7800 Flame Safeguard
Cast Iron Headers (Boilers)
Bronze Headers (Water Heaters)
Mounted & Wired Flow Switch
Mounted & Wired LWCO
Low Nox
Space Saving Footprint
Have Questions?
Contact a Sales Representative
Digital Touch Screen Programming
Lead/Lag Cascade (16 Units)
Mixed-Size Unit Communication
Circular Pump/VFD/Valve Control
Freeze Protection & Delta T Monitoring
Hybrid/base Load Capability
Domestic Hot Water Communication
Web-Based Remote Monitoring/Dashboard
Diagnostics and Troubleshooting
Exclusive Remote Monitoring Capability with HEATNET Online
futera III Ratings and Dimensions*
| | Input | | Boiler | Output | Unit | Depth | Unit | Width | Unit | Height | | Flue Vent* | | Air Intake | Connections | | Shipping | Weight |
| --- | --- | --- | --- | --- | --- | --- | --- | --- | --- | --- | --- | --- | --- | --- | --- | --- | --- | --- |
| Module | MBH | kW | MBH | kW | In. | mm | In. | mm | In. | mm | Cat I Negative | Cat II Negative | Cat IV Positive | | Gas In. | Water In. | Lbs | Kg |
| MB/MW 500 | 500 | 147 | 428 | 125 | 39 | 991 | 25-1/8 | 638 | 48-1/2 | 1231 | N/A | 6" | 5" | 8" | 1" | 2" | 600 | 272 |
| MB/MW 750 | 750 | 220 | 641 | 188 | 39 | 991 | 25-1/8 | 638 | 55 | 1397 | 8" | 6" | 5" | 8" | 1" | 2" | 695 | 315 |
| MB/MW 1000 | 1000 | 293 | 853 | 250 | 39 | 991 | 25-1/8 | 638 | 61-1/2 | 1562 | 9" | 7" | 6" | 8" | 1" | 2" | 735 | 333 |
| MB/MW 1250 | 1250 | 366 | 1066 | 312 | 44 | 1118 | 29-1/8 | 740 | 55-1/2 | 1409 | 10" | 8" | 6" | 10" | 1-1/4" | 2-1/2" | 850 | 386 |
| MB/MW 1500 | 1500 | 440 | 1278 | 374 | 46-13/16 | 1189 | 29-1/8 | 740 | 60 | 1524 | 10" | 8" | 8" | 10" | 1-1/4" | 2-1/2" | 927 | 421 |
| MB/MW 1750 | 1750 | 513 | 1491 | 437 | 47-3/16 | 1199 | 29-1/8 | 740 | 64-1/2 | 1938 | 12" | 10" | 10" | 12" | 1-1/2" | 2-1/2" | 928 | 421 |
| MB/MW 2000 | 2000 | 586 | 1704 | 499 | 47-3/16 | 1199 | 29-1/8 | 740 | 69 | 1752 | 12" | 10" | 10" | 12" | 1-1/2" | 2-1/2" | 1100 | 499 |
| | Input | | Boiler | Output | Unit | Depth | Unit | Width | Unit | Height |
| --- | --- | --- | --- | --- | --- | --- | --- | --- | --- | --- |
| Module | MBH | kW | MBH | kW | In. | mm | In. | mm | In. | mm |
| MB/MW 500 | 500 | 147 | 428 | 125 | 39 | 991 | 25-1/8 | 638 | 48-1/2 | 1231 |
| MB/MW 750 | 750 | 220 | 641 | 188 | 39 | 991 | 25-1/8 | 638 | 55 | 1397 |
| MB/MW 1000 | 1000 | 293 | 853 | 250 | 39 | 991 | 25-1/8 | 638 | 61-1/2 | 1562 |
| MB/MW 1250 | 1250 | 366 | 1066 | 312 | 44 | 1118 | 29-1/8 | 740 | 55-1/2 | 1409 |
| MB/MW 1500 | 1500 | 440 | 1278 | 374 | 46-13/16 | 1189 | 29-1/8 | 740 | 60 | 1524 |
| MB/MW 1750 | 1750 | 513 | 1491 | 437 | 47-3/16 | 1199 | 29-1/8 | 740 | 64-1/2 | 1938 |
| MB/MW 2000 | 2000 | 586 | 1704 | 499 | 47-3/16 | 1199 | 29-1/8 | 740 | 69 | 1752 |
| | | Flue Vent* | | Air Intake | Connections | | Shipping | Weight |
| --- | --- | --- | --- | --- | --- | --- | --- | --- |
| Module | Cat I Negative | Cat II Negative | Cat IV Positive | | Gas In. | Water In. | Lbs | Kg |
| MB/MW 500 | N/A | 6" | 5" | 8" | 1" | 2" | 600 | 272 |
| MB/MW 750 | 8" | 6" | 5" | 8" | 1" | 2" | 695 | 315 |
| MB/MW 1000 | 9" | 7" | 6" | 8" | 1" | 2" | 735 | 333 |
| MB/MW 1250 | 10" | 8" | 6" | 10" | 1-1/4" | 2-1/2" | 850 | 386 |
| MB/MW 1500 | 10" | 8" | 8" | 10" | 1-1/4" | 2-1/2" | 927 | 421 |
| MB/MW 1750 | 12" | 10" | 10" | 12" | 1-1/2" | 2-1/2" | 928 | 421 |
| MB/MW 2000 | 12" | 10" | 10" | 12" | 1-1/2" | 2-1/2" | 1100 | 499 |
Note: Certified South Coast Air Quality Management (SCAQMD) Protocol Rule 1146.2; Ventura County APCD 74.11.1
* Rating reflect boilers only. For boiler efficiency information please visit www.ahridirectory.org