Infinite Energy²
| | |
| --- | --- |
| Heat Exchanger | Stainless Steel |
| Size Range | 199 - 1,000 MBH |
| AHRI Boiler Efficiency | 95.2% |
| Turndown | Up to 20:1 |
| Application | Primary/Secondary |
Part of RBI's stainless steel line of high-efficiency boilers and water heaters, Infinite Energy² is available from 199 to 1000 MBH, providing flexible solutions for all of your heating and domestic hot water system needs. Utilizing state-of-the-art Radial Variable Circulation (RVC) stainless steel heat exchangers, IE² maximizes heat transfer with operating efficiencies up to 98%.
Using all of today's modern technologies, including pre-mix burners, modulating firing rates up to 20:1 and integrated cascade controls, IE² offers superior performance and application flexibility. Units are PVC, polypropylene and stainless steel vent capable and can be installed in multiple unit configurations using its on-board boiler control configuration – providing flexible modulation for maximum efficiencies.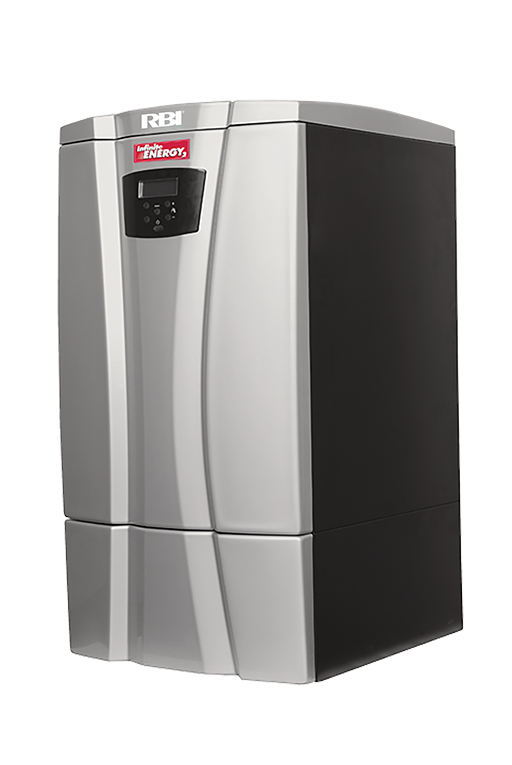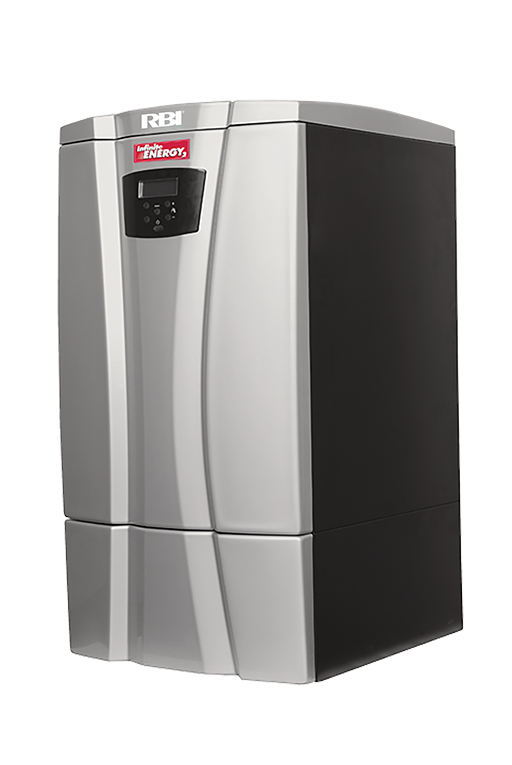 199 - 1,000 MBH
Full Modulation (up to 20:1)
RVC Stainless Steel Heat Exchanger (160 psi)
Intuitive Integrated Control Platform
Multi-unit Cascade Communication (8 units)
Premix Burners
Low Nox
Integrated Condensate Neutralizer
Modbus Based Control
PVC/CPVC, Polypropylene and Stainless Steel Vent Approved
Outdoor Reset
System, Boiler & DHW Pump Control
DHW Priority
Low Water Flow Protection
Blocked Flue Pressure Switch
PC Connections for Diagnostics
Space Saving Footprint
Have Questions?
Contact a Sales Representative
Infinite Energy² Ratings and Dimensions
| | Input | | Boiler | Output | Unit | Depth | Unit | Width | Unit | Height | Flue Vent | Air Intake | Connections | | Shipping | Weight |
| --- | --- | --- | --- | --- | --- | --- | --- | --- | --- | --- | --- | --- | --- | --- | --- | --- |
| Size | MBH | kW | MBH | kW | In. | mm | In. | mm | In. | mm | | | Gas | Water | Lbs | Kg |
| IB/IW 199 | 200 | 59 | 184 | 54 | 29 | 724 | 23.6 | 600 | 45.7 | 1160 | 3" | 3" | 1" | 1-1/2" | 258 | 117 |
| IB/IW 399 | 399 | 117 | 376 | 110 | 34.8 | 885 | 23.6 | 600 | 45.7 | 1160 | 4" | 4" | 1" | 2" | 356 | 162 |
| IB/IW 500 | 500 | 147 | 472 | 138 | 34.8 | 885 | 23.6 | 600 | 45.7 | 1160 | 4" | 4" | 1" | 2" | 371 | 168 |
| IB/IW 750 | 750 | 220 | 711 | 208 | 35.3 | 896 | 23.6 | 600 | 71.5 | 1815 | 6" | 6" | 1-1/4" | 2-1/2" | 539 | 245 |
| IB/IW 1000 | 1000 | 293 | 952 | 279 | 35.3 | 896 | 23.6 | 600 | 71.5 | 1815 | 6" | 6" | 1-1/4" | 2-1/2" | 612 | 278 |
**Diameters may vary based on system design