Spectrum
AVAILABLE IN CANADA ONLY
Heat Exchanger
Copper
Size Range
100 - 400 MBH
250 - 400 MBH
Turndown
On/Off , 2-Stage
Application
Primary/Secondary
With models ranging from 100 - 400 MBH, Spectrum Series boilers' 250 - 400 MBH, Spectrum Series water heaters unique design and optional corrosion-resistant, brushed stainless steel jackets make them ideal for indoor and outdoor installations in corrosive or harsh environments.
A unique feature within this MBH range, the Spectrum Series' diagnostic control panel allows for easy troubleshooting, and, when coupled with the self-diagnostic light package, makes the Spectrum Series easy to assess, maintain and service. All Spectrum Series non-condensing, gas-fired boilers and hot water heaters are constructed using cast iron headers for application flexibility, and feature built-in draft diverters to lower the height of the unit and, most importantly, to reduce installation costs.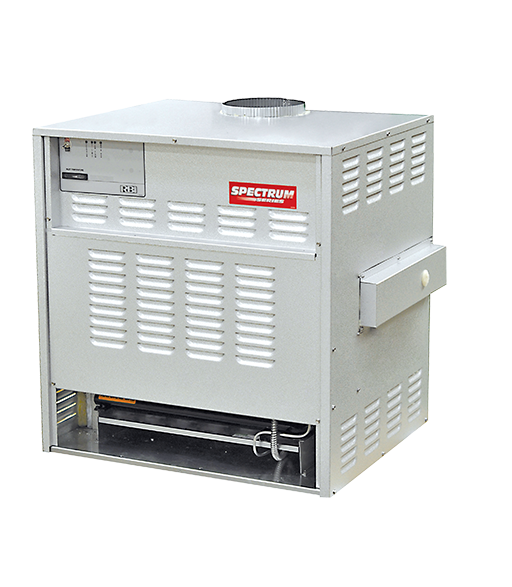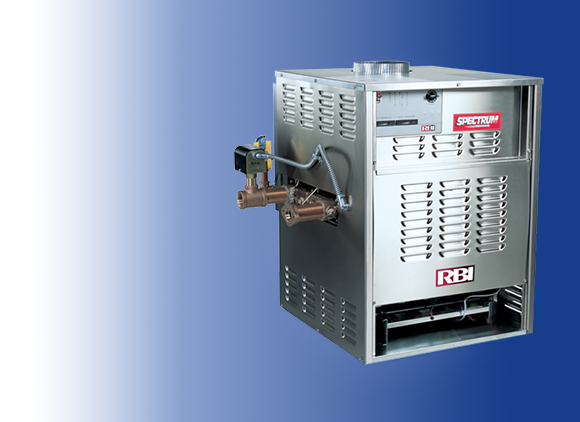 100 - 400 MBH
250 - 400 MBH
On/Off, 2-Stage
Copper Heat Exchanger (160 psi)
Electronic Ignition
Mounted & Wired Flow Switch
Stainless Steel Burners
Operating Control
Built-in Draft Diverter
Inlet & Outlet Thermometers
Self Diagnostic Light Package
Pump Control
Field Reversible Heat Exchanger
Have Questions?
Contact a Sales Representative
Spectrum ratings and Dimensions*
| | Input | | Boiler | Output | AFUE% | Unit | Width | Vent | Width | Connections | | Shipping | Weight |
| --- | --- | --- | --- | --- | --- | --- | --- | --- | --- | --- | --- | --- | --- |
| Model | MBH | kW | MBH | kW | | In. | mm | In. | mm | Gas | Water | Lbs | Kg |
| SB/SW 100 | 100 | 29 | 82 | 24 | 82 | 16-1/8" | 410 | 5" | 127 | 1/2" | 1-1/2" | 193 | 88 |
| SB/SW 150 | 150 | 44 | 123 | 36 | 82 | 19-1/2" | 495 | 6" | 152 | 1/2" | 1-1/2" | 200 | 91 |
| SB/SW 200 | 199 | 58 | 163 | 49 | 82 | 22-7/8" | 581 | 7" | 178 | 1/2" | 1-1/2" | 235 | 107 |
| SB/SW 250 | 250 | 73 | 205 | 60 | 82 | 26-1/4" | 667 | 8" | 203 | 3/4" | 1-1/2" | 250 | 113 |
| SB/SW 300 | 301 | 88 | 247 | 72 | 82 | 29-5/8" | 752 | 8" | 203 | 3/4 | 1-1/2" | 265 | 120 |
| SB/SW 350 | 350 | 103 | 286 | 84 | 82 | 33" | 838 | 9" | 229 | 3/4" | 1-1/2" | 285 | 129 |
| SB/SW 400 | 399 | 117 | 324 | 95 | 81 | 36-3/8" | 924 | 10" | 254 | 3/4" | 1-1/2" | 300 | 136 |
*Ratings reflect boiler only. For boilers efficiency information please visit www.ahridirectory.org